Installation
Firstly, download PowerGramo from the Download area and save the setup file. You may get a warning message from some anti-virus programs on completing downloading, please just ignore it and run setup anyway.
After downloading, click "Run" button in the pertaining window. You can also run the setup process by double-clicking the saved setup file from an Explorer window.
During installation you may choose a directory where the program will be installed or do some other customizations. Usually you only need to click "Next" button several times to complete installing.

After installation, you will find "PowerGramo" is located under menu "Start | All Programs" and two shutcut button on the desktop named "PowerGramo" and "PowerGramo Player". Double clicking the "PowerGramo" button will start PowerGramo.

NOTE: Please shut down both Skype and PowerGramo during installation.
Confirm PowerGramo's access to Skype
On finishing installation, for the first time you start PowerGramo, Skype will ask you if PowerGramo is allowed to connect with skype.
For skype version 4.x, you will see a message directly in the skype window, shown as the following image:




Click the "Allow access" button in the message window.

For skype version 3.8, the program does not show the authorizing window directly when PowerGramo try to connect. It shows a slip window near the windows taskbar, as follows:




Clicking on the slip window will bring forth the Skype main window with new events displayed below the menu bar, as the following image shows: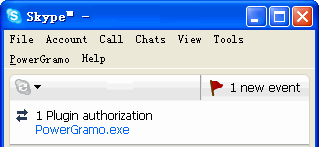 Among the events, click one named PowerGramo.exe, the authorizing window will show.

For skype version earlier than 3.8, you will see a warning message from Skype as shown below:





Select "Allow this program to use Skype" as indicated above and click the button "OK".


NOTE: If you accidentally choose a wrong option, PowerGramo will be unable to connect to skype, saying "The connection request to Skype was rejected.....". When this happen, please go to Skype's "Options" window to remove PowerGramo from the blacklist. Generally you can reach the blacklist by first finding in the Skype "Options" window a link named "Manage other programs' access to Skype" and click the link. The latest version of skype has this link grouped in "Advanced Settings".
Uninstallation

To uninstall PowerGramo, please click menu command "Start | All Programs | Powergramo | Uninstall" and navigate to to the last page by clicking the "Next" button.

NOTE: to bring forth the "Start | ..." menu, just click the "Start" button at the left-bottom conner of your system.